Deep Dives Into Horror - Trick or Treat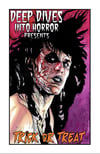 Deep Dives Into Horror - TRICK OR TREAT (1986)
"Stand up and be counted!"
Learn everything you ever wanted to know about the 1986 heavy metal horror film, Trick or Treat!
44 pages.
Full-color, cardstock cover.
High-quality, black and white innards.
See Table of Contents photo for details.
Don't read it backwards! You might summon a demon...
PLEASE NOTE: If you already have the Joe Bob Briggs Fanzine Trick or Treat special edition, you probably don't need this one. It's the same thing, minus the Joe Bob stuff.
U.S. orders are sent USPS First Class.
For international orders, please order from our Etsy store, here: https://paddyjackpress.etsy.com/